TV Request from Optomen Television Production company below.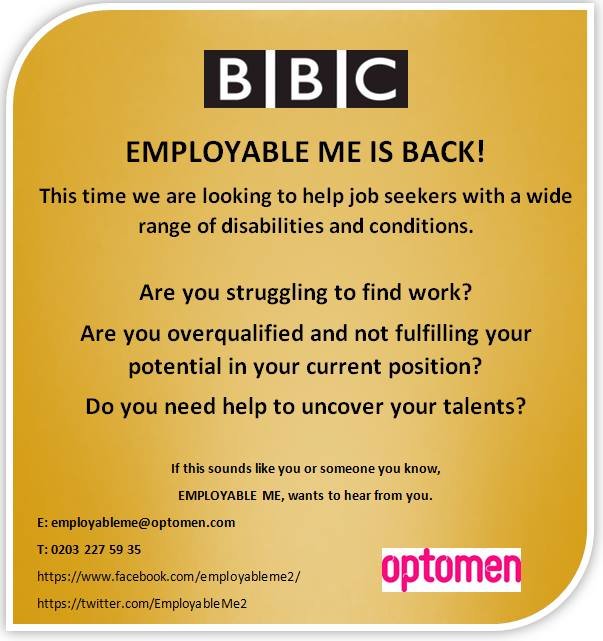 Employable Me is back and looking for people with disabilities or conditions who would like help to find a job! The casting period is coming to a close in 2 weeks so would love to chat with anyone that is potentially interested.
Earlier this year we made a series of documentaries called 'Employable Me' for BBC 2 and BBC Three.  The films explored the difficulties people with neuro diverse conditions such as Autism and Tourette's face when it comes to finding a job, and followed them as they sought to overcome these challenges with help from experts in their conditions.
We're very happy to say that the films were extremely well received by the press and the neuro diverse community, and that our contributors and the businesses featured felt that taking part in the project was an overwhelmingly positive experience.   After the success of Series 1, we've been commissioned by the BBC to make a second series, extending the opportunity of employment to the whole spectrum of disability. At the heart of the series is the increasing recognition that disability should not be seen as a barrier to meaningful employment, and indeed diversity can be a positive benefit in the business environment.
Email us if you are interested in finding out more employableme@optomen.com.
—
Please note, Hello Little Lady is not affiliated with this company and any dealings are between yourself and the production company.  Best of luck!