As we British love to say, time is flying and I couldn't believe how quickly my next trip had come around. I was excited to be meeting up with the UNION19 cohort for our third get-together as part of the Northern School of Creativity and Activism. This time the weekend was based in Manchester, with the title Working From Within.
The programme promised a jam-packed delight of learning and opportunity self-reflection, with the NW members of the group working hard to ensure we made the most of our time together.  As before, the first day is about learning about the activism around the local area and the second day, of the residential, focuses on our professional development as practitioners. It was a lovely weekend, with an eclectic mix of community groups, groups exercises and performance. It feels like we are all on the cusp of being emerging leaders in our areas and fields,  with UNION being the focus to share experiences and support.
Saturday 6th July
The title of the weekend suggests we would be looking within, which I took to mean self-reflection on what it takes to individually to be an activist within your field.  The morning sessions showed that this could also mean with being within a community. It can also be about working individually and together by forming alliances and partnerships to gain greater traction for a core set of aims and purposes.
The Saturdays are more academic, with examples provided by people and places who are involved in activist work.
What does working from within mean?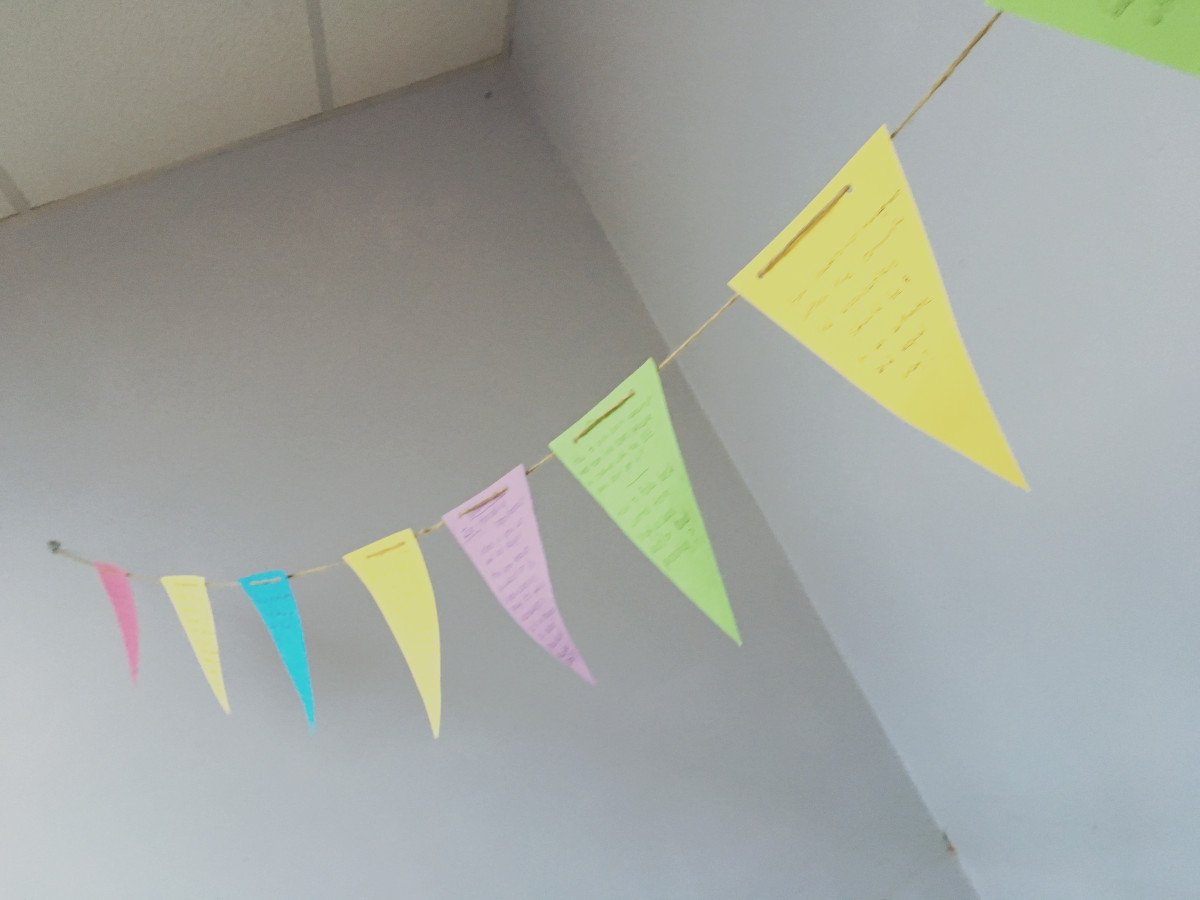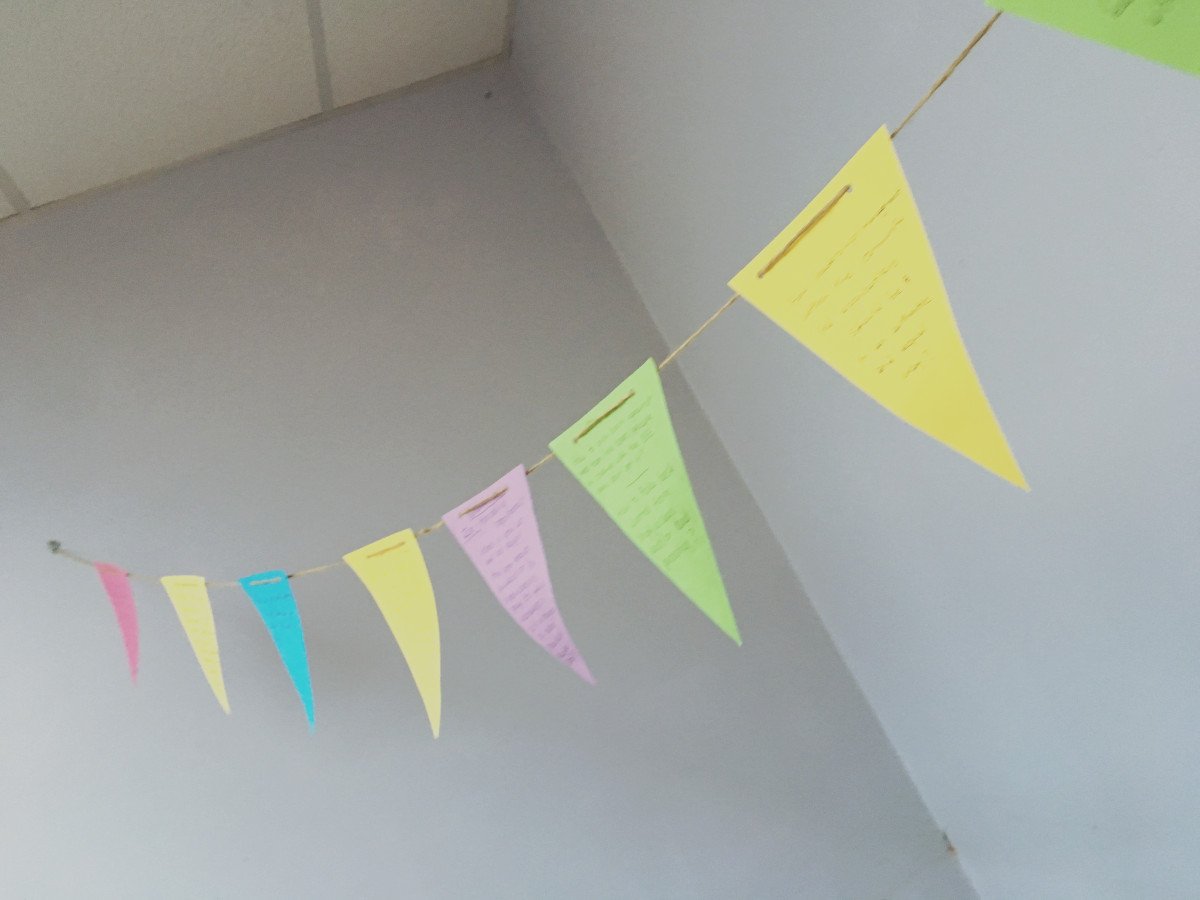 Saturday had been heavily co-designed by members of the course from the North West. Zoe started off the session, at the Green Fish Resource Centre, with a group exercise where we had to show as a group what we thought working from within represented.
I felt it aptly represented the difficulties trying to all work together for the same purpose.
My worst anxieties of these types of team-building exercises occurred when the group all huddled together and I held back because I didn't want to be crushed and still ended up coming off worse physically when I was knocked accidentally on the head by one of the group tried to grab my hand.  I usually hate team exercises like this, as I always end up feeling excluded because of lack of height… still, I could see the benefits of it and it helped to relax the group. I came up with ideas that meant we didn't have to move, but could still represent what was asked, which I thought was representative of how I like to work. Perhaps the exercise is a cautionary note that I can't influence change without feeling uncomfortable or getting hit on the head now and again.
Moving on…
Working within a community
North-west based Unionites Hannah, Gulcin, and Zoe talked about their respective work within their own communities. Hannah Whitlow talked about her amazing work as part of  Blaze Arts – a young person-led producer company.  Zoe talked about her work with REIGN – a collective of young survivors of child sexual exploitation and other forms of abuse.    Gulcin did a wonderful presentation about her work with the Turkish community in Manchester with the North West Turkish Community Association.
Fereshteh  Mozaffari Vanani​  talked about establishing ShebaArts an arts organisation that explores new narratives within refugee and migrant communities across the UK and the tensions between established funded organisations and start-up/minority organisations who are more engaged within a community.
The visits for this weekend included Horsfall Gallery and the Greater Manchester Disabled People's Coalition (GMDPC).
We met Inga, a project worker, who spoke very eloquently about the organisation, what it stands for, and the importance of the use of language.  We learnt how the GMDPC base their work on the social model of disability,  which is where the disabled person is disabled by society – whether that is in terms of access to environments or the discrimination faced in order to participate fully in society. This is the model of disability that I personally identify with for my dwarfism.
As a disabled person, it was very reassuring to see disabled people making important decisions and running an organisation on their own terms and to see the structures/mission statements in place that ensures this is maintained.
MAKING OUR OWN ENTERTAINMENT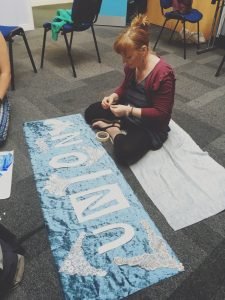 The remaining part of the day was spent on reflecting on how our work has influenced our own activism and how we could turn into a piece of art or performance.
Splitting into groups or working on our own, we all participated in creating something to create evening entertainment. There was a moving spoken-word piece by Adrian, Jo and her dancing drawing, feminist posters, the challenging of stereotypes group poetry set to lines from the RedBook in 1970s/80s songs.
The most entertaining was the mini participatory poetry workshop by Tom, who had all us of writing one-line responses to "Brexit is…"
Chris suggested You're Just Little could be turned into a performance piece, which I had never really considered before.   I find it quite scary the ease with which the concepts of how to deliver or represent what I have to say happens…  I didn't labour over what I wanted to say or how it was going to be. Maybe it's because what's there is a strong enough message, I know what needs to be said,  and how I want to see things change for the Dwarf community and as a practitioner.
The You're Just Little – the performance was simple and impactful. I found it personally empowering to be taking control of the narrative in front of an audience, defiant almost.   Thanks to Hannah for the last-minute development of the piece, Lauren, Poppy and  Freya for helping to perform the piece.
The premise of the piece is to show visually the sayings I hear about my dwarfism in contrast to the shape and height of my body stood with average height people in a line.  Four average height people, faces covered with statements have said to me as a dwarf person. Me, my mouth covered with a small blank square to represent the voicelessness I feel on a daily basis, contrasted with the visible difference of my body.
Sunday 7th July
The second day of the residential is the chance for us as practitioners to reflect on our own development and the main aim of the session was to look at ways to build inner resilience and how to look after yourself as an activist.
Everyone who I have had the privilege to talk to who is active within their communities talks about suffering from some form of burnout. I've my own battle scars from managing my own expectation and that of others, my own (lack of) energy levels and the weight of the work I'm aiming to achieve.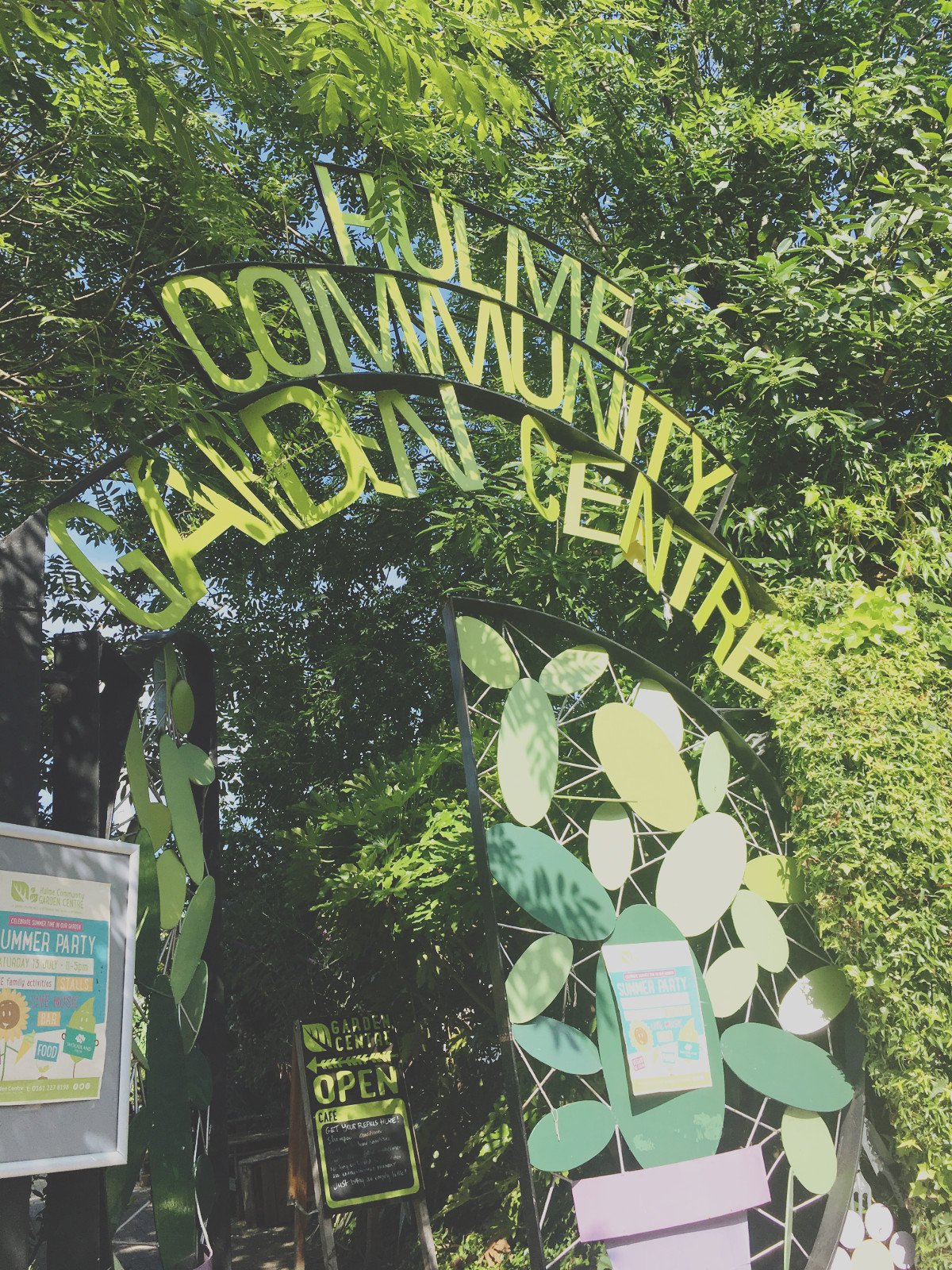 We met at the delightful and beautiful Hulme Community Garden Centre,  in Manchester.
The Hulme area of Manchester has a rich creative heritage from the 80s when a housing estate was earmarked for demolition and attracted an array of squatters that turned the area into a creative hub of artists, musicians and more.  The area also has the largest social housing coop space in Europe.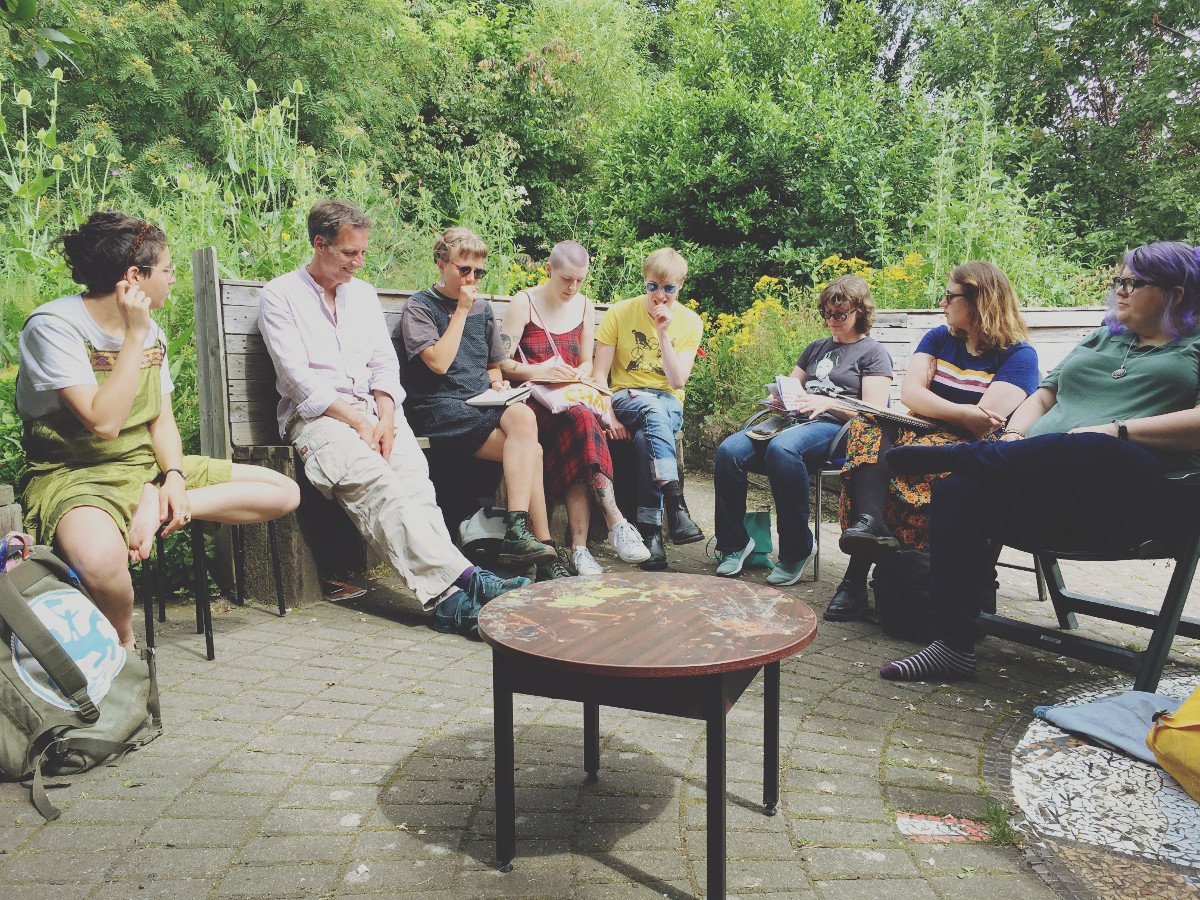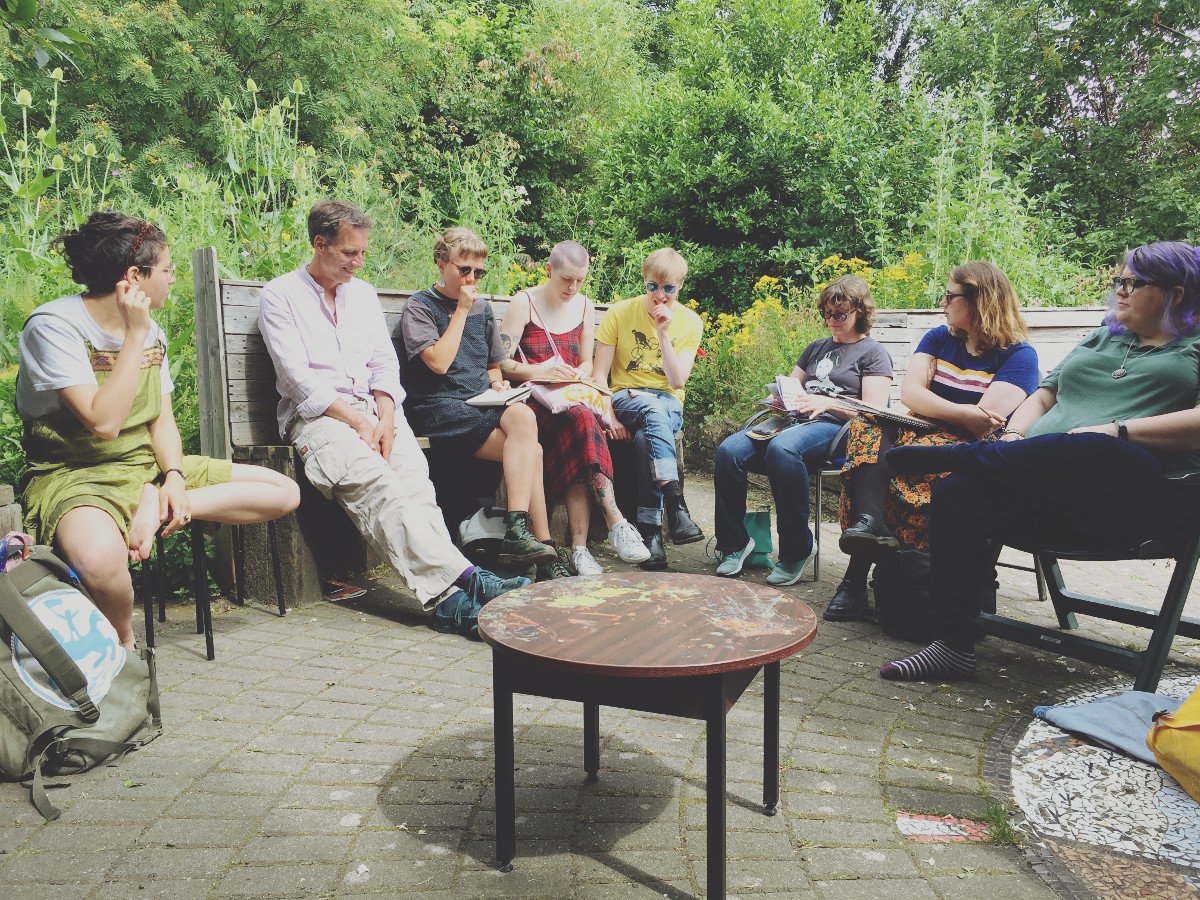 Group reflection was what started the morning off, with a lovely surprise birthday cake for me!
To the outsider, it may seem a tad self-indulgent for such reflections, however, I've come to appreciate the holding open of this safe space, to be honest about any concerns we have, what we've learnt and most importantly, what we've enjoyed.
There was something very grounding to be sat in and surrounded by nature, chiming with the theme of looking after yourself as a practitioner.  Sara started us off talking about the different emotions we have and how these relate to the reactions we have.  That we need a good balance of all four, which escape me now, unfortunately.  Chris also took us through Medical Circle, Mind, Body, Heart and Soul – a Native American self-reflection tool to check which areas of their life are in balance – or are not. Sara finished off the morning session by taking us through a 5-minute breathing meditation before we broke for a tasty lunch and a slice of birthday cake.
It was this point I said my goodbyes and left, as I needed to leave early to return home for my birthday!
Personal Reflection
Personally, I welcomed the weekend as a chance to reset and reflect (possibly also influenced by turning a significant birthday age).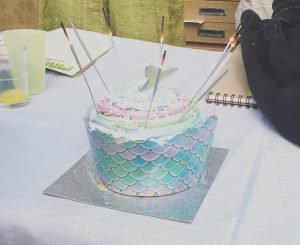 One of the themes that struck me while talking to a number of other UNIONites is that we  might not be able to see the bigger picture at the moment of where we are heading, but my gut instinct is that we will look back on this time as a period where we are able to develop and grow and set off onto our respective paths.
We're all emerging leaders in our own way. Trying to make the world a better place for our respective communities. People who care.  We're at the point we need to be – where we are wondering if we want to continue, coming across challenges, personally and professionally, that are shaping us as we evolve.   UNION19 provides the space to be, to reflect and essentially the time to be able to focus solely on ourselves, to think creatively, without distraction.
This particular weekend felt more like the group was bonding together, friendly, the initial awkwardness of strangers, giving way to becoming peers and friends. The start of something special – a few of us were already talking of feeling sad that the course will be ending in 6 months time. It's heartening to be surrounded by a great bunch of supportive people who understand the challenges and triumphs, to swap stories and provide experience and advice.
Visiting GMDPC group put some fire back in my belly in driving my own plans forward.
Coming away from the weekend, I still felt confused about the direction of things.  Now I've been home for a while and it's been a significant birthday, I've come to realise that it's not about directions, it's enjoying and doing and creating and being where we are now, so the path can show itself, despite the frustrations.
Personally, this particular weekend, I struggled with the balance of managing my own needs with that of the group.  I had a couple of hypoglycemic attacks (low blood sugar) because I was out of sync with my usual eating times trying to match the group's timetable and not realising/remembering I need to eat.   I
t's at this point I've had to face and accept that for occasions like this, I need some form of personal assistance. Not only to help me move around the city, carry bags and open doors, but also remind me when rest and more importantly, eat, so I don't have a hypo.  While, ordinarily, I would view this as a negative experience, the organisers of UNION are very approachable, meaning that I could have that honest conversation about my needs, without feeling guilty or too awkward. Experiencing this actually helps the organisers to factor in such support for future residentials and for new applicants for the next intake as well. Big thanks to Linda and Sara for their support and kindness.
Moving Forward
With the UNION weekends, I always come away feeling recharged and refreshed, even if somewhat sleep-deprived.
As practitioners, we give so much headspace, time and effort to our causes. I've come to realise that  I am feeling very tired and need to rest, bone-weary at this point and that is something that needs addressing as a priority (thank goodness for the six-weeks holidays).
As one of my fellow UNIONites, Zoe, who I think it was who said, quoting The Simpson's – "We are human beings, not human doings."