It's been that 'delightful' time of year to renew my car insurance. My current insurer had sent me a renewal that put my quote up over a £100 than what I paid last year.
I felt a bit hopeful that access to different insurance brokers may have widened since before I went back on the Motability scheme in 2011 and had heard a couple of other people with dwarfism had used Compare The Market to successfully bought car insurance for themselves.
Opening the laptop and browser, I navigated my way to The Compare The Market disabled insurance landing page and clicked on the 'Get Quote' button. Adding the details was difficult for specific adaptions unless it was related to wheelchair use. So I clicked Other. The majority of the options for adaptations related to bodywork and what looked like souping up one's vehicle.
The results weren't pretty. As you can see from the image below, I was quoted anywhere between £1000+ to £10k+.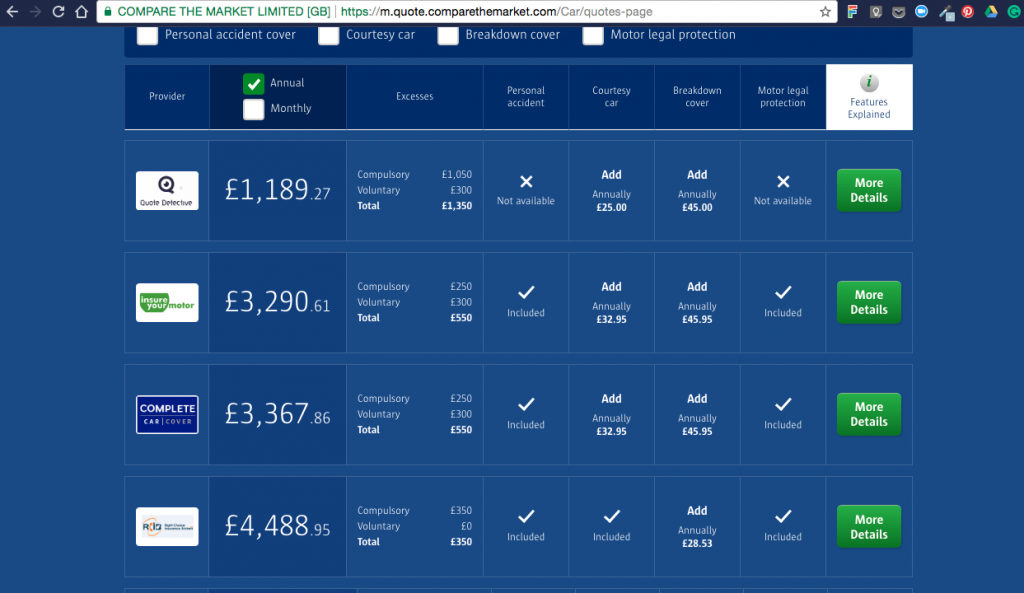 This is with 18 years of driving experience, no accidents and 6 years of no claims that takes into account my time on Motability and the previous 12 months. At this point, I was ready to cry.
In the end, I've managed to renew my car insurance for £20 cheaper with my existing insurer – Fish Insurance. Not sure if this is usual for average drivers, but still over £600 mark for a driver with my length of driving experience.
To give a bit of background, there are two insurance brokers that disabled car drivers can use, as far as I am aware, in the UK.  Fish Insurance and Autonet Mobility.
Apart from the majority of insurance companies who are refusing to cover me because of my adaptations, it's also the provision of support provided, if I have an accident, that is of no use to me either.
Ordinary car insurance cover will provide drivers with a courtesy car to still be able to get about in. Great – if you're a non-disabled driver who doesn't need adaptations. From my own experience, I haven't had a car yet that didn't take less than three months to be adapted and ready for me to drive. My current insurer tailors their support towards the needs of disabled people providing a taxi allowance to enable you to still get about in the event of an accident.
The choices of insurers for people with disabilities who have adaptations is very low compared to the choice your non-disabled person has. It's incredibly frustrating and feels incredibly unfair. I understand that we may need to pay a bit more to cover specific adaptations, but to be put in the same box as someone who modifies their car for vanity, as opposed to having to adapt a vehicle in order to be able to drive, is a hard, bitter pill to swallow.
At this point, I really wish that I still qualified for Motability. The press makes out it's a free car for scroungers. For people like me, it not only provides much-cherished independence, our legs. It also provides peace of mind from the significant additional costs disabled people face in terms of funding adaptations and also the higher rate premiums for car insurance, to be in with a chance of being able to drive at all.  My car is my independence.  Being on the scheme and having adaptations funded enabled me to work, access education, hospital appointments and more.  It's given me a life. A lift up to the starting line your non-disabled person takes as a given.
On DLA I had a lifetime mobility award that enabled me to access the Motability scheme.  Now I have the annual stress and anxiety of higher car insurance premiums and worrying how I'm going to fund £4k+ worth of adaptations next time I need a new car. All because someone in Whitehall changed the criteria qualifying from 50m to 20m.  My disability hasn't changed. It's not like I'm going to grow another foot so that I don't have to go through this experience.
Disability and being disabled isn't about how far a person can walk in order to be independent. Can someone tell the government this, please?
—-
Images show insurance companies that will insure me and ones that won't. You can see there are quite a few mainstream ones on the won't list.
The cost of adaptations for people with dwarfism is in the £4k – £6k range